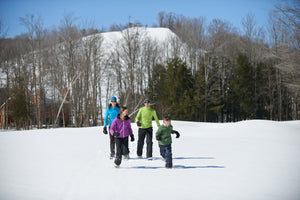 Snowshoes - Fun That Won't Break the Bank
Snowshoeing is such a great winter sport and for so many reasons.
First, this is equipment that is easy to purchase. With a few simple questions, our staff will have you in the correct pair and they can be used with winter boots that you already own.  The price is reasonable and makes it easy to set up the entire family.  Adult snowshoes start at $200 and kid's starts at $85.
Second, go where ever you want to go!  You don't need specially groomed or packed trails, anywhere with snow works!  If you go to a park there are generally little or no user fee.  You can also just head to a school yard or a city park and have a great time.
Third, you can go out for a very short period of time or for hours.  With the ability to go anywhere and the fact that it is so easy to get everything needed ready to go, it is simple to even head out for 20 minutes!  And remember, there is zero maintenance or prep required!
---