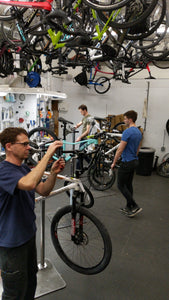 A&L Service Department
Let me tell you about our Service and Parts Department!  This year is different and yet the same.  Covid-19 has made us change how we do things.  We are now using hand sanitizer constantly, sanitizing service bikes as they come and go and keeping our distance from customers to keep everyone safe. Our store now has a doorbell which allows us to manage how many people are in the store at one time.
But I don't want to dwell on that part of it, lets talk about what is the same!  First of all, we are BUSY. This speaks to how many people are out cycling! I love our Service Department and all of the great people working in it.  Our department has knowledge that goes back 18 years.  It has people working on your bike that love cycling and love bicycles.  In the summer this department employs 7 people and believe me, these guys work hard!
The A&L Cycle Service Department offers great service, quality work and a pride in what we do.  From detailing bikes to tire changes and complete tune-ups, we are here for the cyclists of Brandon. For the beginner to the triathlete competing in Ironman competitions around the world, we keep the bike rolling in tip top shape!
---